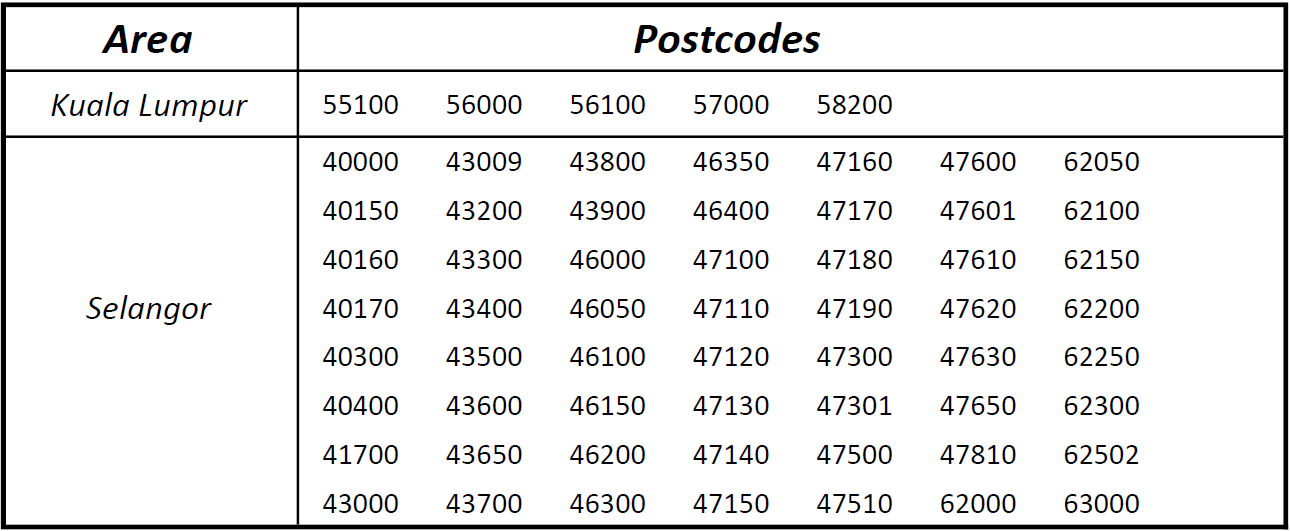 Delivery Area
We only deliver to selected area in Klang Valley / Selangor (as per the postcodes list above) at the moment. Changing of delivery address are not allowed after the order is confirmed.
Delivery Hours
Our delivery will start from 10 am - 6 pm, Monday to Saturday (excluding Public Holidays). Order cut-off time is 3pm, order received after 3pm, will be processed the next working day.
All orders will be delivered within 2 working days.
Your orders will be delivered by our Third-party Delivery Service. We will take great care to ensure that delivery is done in the timeframe stated. Neither Bake@Polymart nor the Third-party Delivery Service shall be held liable for any losses, liabilities, costs, damages charges or expenses arising out of any delay, postponed or cancelled delivery. If the Goods are not delivered within the selected timeframe (except weather condition), or for any other inquiry regarding delivery.
Delivery Charges
Delivery fees are calculated upon checkout, based on your location. All the risks of goods shall be liable from the customer upon acceptance of delivery.
Failed Delivery
The Delivery Contractors will only wait for ten (10) minutes once they arrive at your selected delivery address. If you are unable to collect your Goods and/or refuse/delay/fail to respond to our communications regarding Goods collection within this time-frame, the Order will be classified as a 'failed delivery' and additional delivery charges will be applied for redelivery.
(i) If you fail to accept delivery of the Goods delivered to you, during the time of delivery; or (ii) if we are unable to deliver at the selected delivery period due to your failure to provide sufficient and/or appropriate instructions, then such Goods shall be deemed delivered to you and all risk and responsibility in relation to such Goods shall pass to you. Any storage, insurance and any other cost or expense that we incur as a result of the inability to deliver shall be your responsibility and you shall indemnify us in full for such cost. In such cases, we always reserve the right to cancel your Order and/or have your items sent back to our distribution centre.
The Delivery Contractors shall not be held liable for any loss, damage, cost or expense incurred to such Goods or premises:
(i) your failure to provide adequate access or arrangements for delivery;
(ii) at your request to complete the delivery procedure due to your absence whereby leaving the Goods at your doorsteps, lobby, guardhouse or designated recipient;
(iii) your request to deliver the Goods to the Delivery Address.